Getting through these weeks of meetings, cleanings, preparing for the coming school year has been pretty busy! There's always so much to do to prepare for those sweet little toddlers and preschoolers. I haven't had a lot of time for cooking lately, so I'm doing some round-ups and if you're like me, one of the things you most have difficulty with in a meal is the side-dish. It can make or break a meal. It can change a blah meal to something really special.
I've got a few more sides of my own to share, as well as some other food bloggers. Starting out with one of my most colorful and wholesome salads.
Marinated Asparagus and Vegetable Salad.
Salads make such a nice side dish, but I really do not like washing and cutting or eating lettuce all that much, unless it's topped with gobs of other good things and is only a small part of the salad. I like putting together a mix of my favorite veggies instead.
Brocolli, Pepper, and Peach Salad
: Another salad full of goodness, easy to toss together and if you want to make your meal even easier throw in some leftover meat and make it a whole meal.
DJ Foodie's
Creamed Brussel Sprouts
: Wouldn't you just love to have him as your personal chef?
Ok, how about
onion rings
? Mellissa from "I Breathe I'm Hungry". "
Crunchy and savory on the outside, and sweet and soft on the inside."
Vegetable AuGratin Casserole
: by Jennifer Eloff. I don't think anyone would go away hungry from this table.
Roasted Butternut and Cauliflower Squash
, from Lisa of 24/7 Low Carb Diner. I can almost smell this.
Hungry for fried rice
? Try this one from Karen, "Living Low Carb One Day at a Time." You know, there's just no reason to feel deprived of anything if you are low-carbing!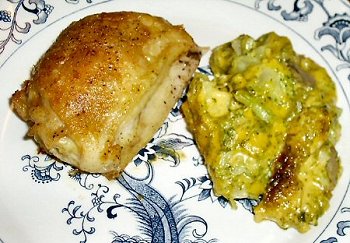 Linda Sue's
Broccoli Mushroom Casserole
. Linda has so many great ideas on her site!
Hope you find some good ideas! Have fun and happy eating! :)